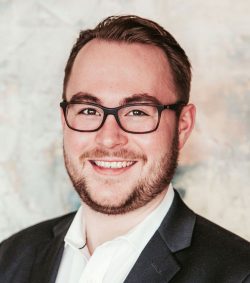 George E. Langdon V, known as "V", officially joined the Crystal Clear Finances Team in 2014 after years of working behind the scenes. As a graduate of NYIT with a Bachelor in Advertising, V focused on clearly communicating the foundational mission of helping our clients develop "Confidence For Every Financial Decision" through seminars, webinars and social media.
In 2017, V transitioned to Director of Operations where he could serve individuals and families with a more interactive role. His dedicated approach to client solutions increased to the level of overseeing all client requests within the office as well as attending financial planning meetings in a mentorship role.
V pursued the financial planning aspect of money management and secured his Series 65 and Life licenses in 2018. Since then, he has transitioned into full time financial planning and advisement. V obtained his MBA from Siena College in 2023.
V is not only a quick study in the business and financial realms but is fast on his feet! If you can catch him, you will see him running half marathons, Turkey trots and other community-based running and hiking events. He lives locally with his wife, Jenna and their daughter Charlotte.